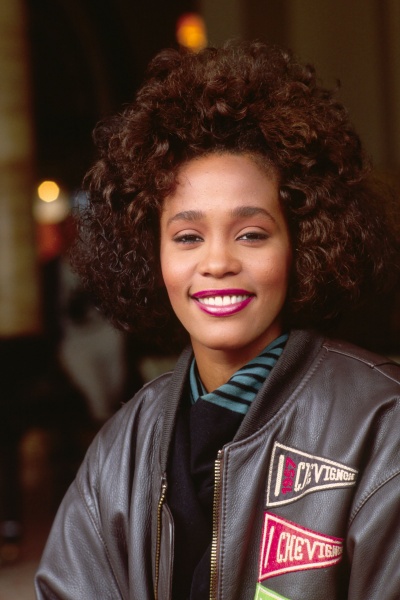 Whitney Houston was one of the biggest female pop music stars of the 1980s and 1990s, thanks to hit singles like "Saving All My Love For You" and "I Wanna Dance With Somebody." The daughter of gospel singer Cissy Houston, Whitney had a brief modeling career before she was signed as a singer by Arista Records in 1983. In 1985 she released her first album,
Whitney Houston
, a Grammy-winner and international hit; her second album, 1987's
Whitney
, debuted at #1 on the charts. By the end of the 1980s she had a string of number one hits and was one of MTV's biggest stars, combining a clean-cut sex appeal with world-class vocal pipes. Throughout the 1990s, Houston continued to sell millions of records, with hit singles such as "My Love is Your Love" and her popular cover of
Dolly Parton
's "I Will Always Love You." Houston tried her hand at acting and landed lead love-interest roles in
The Bodyguard
(1992, with
Kevin Costner
) and
The Preacher's Wife
(1996, with
Denzel Washington
), and played the Fairy Godmother in the 1997 TV version
Cinderella
. She married singer Bobby Brown in 1992; their stormy relationship became fodder for the tabloids and led to a decline in her career, as rumors of drug use and physical abuse swirled around them. They were divorced in 2007, but by then the damage to her singing career had been done. Houston's later record releases have sold modestly, though her production company had box office success with the films
The Princess Diaries
(2001, starring
Anne Hathaway
) and the Disney TV movie
The Cheetah Girls
(2003, starring
Raven Symoné
).